The Arbors at Rancho Penasquitos
12979 Rancho Penasquitos Blvd., San Diego, CA 92129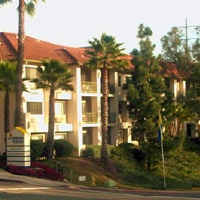 The Arbors at Rancho Penasquitos is an assisted living facility in San Diego's Poway area that offers special care for Alzheimer's and other memory-related issues as well as general assisted living care. There are 58 apartments at the facility, with 31 of them being studio apartments. These studio apartments are where residents dealing with memory issues stay. Residents are encouraged to be as independent as they can be, though help is always there should they need it.
In terms of the services that The Arbors at Rancho Penasquitos offers, some of them include:
Staff that is available 24/7
An emergency call system installed in each apartment that residents can use at any time day or night if there is an emergency
Three meals provided daily, with special meals for residents with specific diets
Staff that has been trained to help residents manage their medications
Housekeeping on a routine basis
Laundry and linen services on a routine basis
Escorts for residents when they go to activities and go back to their apartments
Transportation for residents going to appointments and offsite activities
Parking for residents who still own cars
Special care for diabetes and incontinence
Staff that helps residents with daily needs, including help with cleaning, help with grooming, and help with dressing
Licensed nurses on the staff
On-site visits by a podiatrist, dentist, occupational therapist, speech therapist, and physical therapist
Hospice care for residents who are terminally ill
Respite care for short-term stay residents
The Arbors at Rancho Penasquitos also has amenities that it offers. Residents who enjoy reading can spend some time in the facility's library. There is a beauty and barber shop where residents can go to have their hair done, along with other types of grooming. For residents who enjoy activities that promote creativity, there are arts and crafts activities available. Religious activities are available to residents who have a strong sense of spirituality. Exercise programs and an exercise room are available to residents who still enjoy exercising. Residents who enjoy being social can hang out together at the facility's indoor and outdoor common areas. For residents who enjoy watching television, cable TV is installed in each apartment.