Silvergate San Marcos
1550 Security Place, San Marcos, CA 92069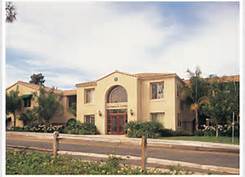 In addition to general assisted living care, Silvergate San Marcos also provides special care for Alzheimer's and other memory-related issues. The facility is fairly large, housing 100 apartments. Residents are encouraged to be as independent as they are able to be at the facility, yet help is always there if they need it.
As with many assisted living facilities, services are a major part of the care offered at Silvergate San Marcos. Some of the services offered are:
Staff that is available 24/7
An emergency call system installed in each apartment that residents can use to call on the staff for help at any time
Three meals provided daily
Escorts for residents going to activities and going back to their apartments
Licensed nurses on the staff and a doctor on-call
On-site visits by a dentist, podiatrist, speech therapist, occupational therapist, and physical therapist
Transportation for residents going to appointments and offsite activities
Housekeeping provided on a routine basis
Laundry and linen services provided on a routine basis
Help for residents from the staff with managing medications
Staff that is trained to help with basic living needs, including helping with dressing, helping with cleaning, and helping with grooming
Special care for diabetes and incontinence
Wheelchair accessibility for the facility's showers
Hospice care for residents with terminal illness
Respite care for short-term stay residents
Amenities are also offered at Silvergate San Marcos. Residents can go to the facility's beauty and barber shop to get their hair done, along with other types of grooming. There is a library at the facility where residents who enjoy reading can spend some time. Religious activities are available for residents who place importance on their spirituality. An exercise room, exercise programs, and a swimming pool all provide residents with the opportunity to exercise. For residents who enjoy activities that encourage creativity, there are arts and crafts activities that they can take part in. The facility's sauna and spa offer the chance for residents to relax a bit. Residents can visit the outdoor gardens whenever they want to take in some fresh air. Cable television is installed in each apartment for residents who enjoy watching TV.