Fairwinds-Ivey Ranch
4490 Mesa Drive, Oceanside, CA 92056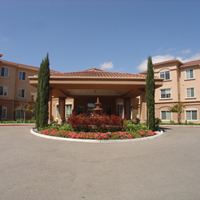 Fairwinds-Ivey Ranch is an assisted living in San Diego CA found in Oceanside, CA. The facility goes for a mix of comfort and assisted living. It is designed to give off the feel of resort, but the staff is still there to provide help for residents if they need it. Independence is encouraged, so those residents who do not want to be overly cared for can remain as independent as they are capable of being.
As far as services go, some that are offered to residents of Fairwinds-Ivey Ranch are:
Staff that is available 24/7
On-site visits by a dentist, podiatrist, physical therapist, speech therapist, and occupational therapist
Transportation to take residents to medical appointments as well as offsite activities
Staff that is trained to help residents in managing their medications
An emergency call system in every apartment that residents can use at any time throughout the day should an emergency arise
Individual control in each apartment for heating and air conditioning
Nurses available during regular business hours
Parking for residents who still own cars
Wheelchair accessibility for showers at the facility
Three meals provided each day
Regular housekeeping services
Special hospice care for residents at the facility with terminal illness
Amenities are also offered at Fairwinds-Ivey Ranch. Those residents who enjoy reading can pay a visit to the facility's library. There is a beauty and barber shop at the facility where residents can go to have their hair done, along with various other types of grooming. A fitness room is available at the facility, as are exercise classes. Indoor and outdoor common areas are found around the facility where residents who enjoy socializing can meet up. For residents who enjoy watching television, cable TV is installed in each apartment. In addition, those residents who enjoy using the computer can visit the facility's computer center, which has Internet access available. An activity, Billiard, and game room is available where residents can go to take part in a number of recreational activities. Residents who want to bring pets with them are allowed to bring small dogs and cats, though they must first have them approved by the facility's management.