Brookdale Clairemont
5219 Clairemont Mesa Blvd., San Diego, CA 92117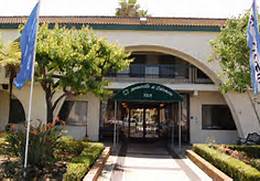 If you're looking for an assisted living facility in the San Diego area, you may want to consider Brookdale Clairemont. The facility has a number of services and amenities available. In addition, residents are allowed as much independence as they are capable of. At the same time, help is always there for them should they ever need it.
Brookdale Clairemont has numerous services that it offers. Among them are:
Staff that is available 24/7
An emergency call system installed in each apartment that residents can use to call on the staff in an emergency at any time day or night
Help from the staff with basic living needs, including help with cleaning, help with dressing, and help with grooming
Staff that is trained to help residents manage their medications
Licensed nurses on the staff and a doctor on-call
Housekeeping provided on a routine basis
On-site visits from a podiatrist, occupational therapist, and speech therapist
Parking for residents who still own cars
Three meals provided daily
Transportation for residents going to appointments and offsite activities
Full tubs that residents of all sizes can fit into easily
Hospice care for residents who are terminally ill
Respite care for short-term stay residents
Amenities are also offered at Brookdale Clairemont. There is a library at the facility where residents who enjoy reading can spend some time. Residents can visit the facility's beauty and barber shop to get their hair done, along with other types of grooming. Those residents who just want to relax can visit the Billiards room. Exercise programs are available to residents who still enjoy exercising. The facility has a television room where residents can watch TV together. Individual control is available in each apartment for heating and air conditioning. For residents who enjoy socializing, there are indoor common areas that they can visit. Small dogs and cats can be brought in as pets as long as they are first approved by the facility's management. Restaurant-style dining is available to give residents the feel of dining out when they eat their meals. Residents can visit the outdoor gardens when they want some fresh air.