La Costa Glen
1940 Levante Street, Carlsbad, CA 92009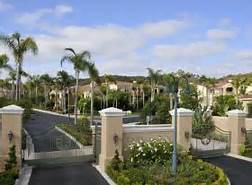 Those looking for a long-term care assisted living facility in the Carlsbad area may want to consider La Costa Glen as a possible option. This is a facility primarily geared towards residents who will be spending the rest of their lives at the facility. It allows for as much independence as each resident is capable of, but also provides help whenever residents need it.
La Costa Glen offers several services to residents. Some of them include:
Staff that is on-duty 24 hours a day, seven days a week
An emergency call system installed in each apartment that residents can use to call on the staff for help at any time day or night
Help for residents with their daily needs, such as help with keeping clean, help with grooming, and help with getting dressed
On-site visits from a podiatrist, dentist, physical therapist, speech therapist, and occupational therapist
Staff that is trained to help residents manage their medications
Three meals provided daily, with special meals available for residents with specific diets
Room service
Regular housekeeping
Transportation for residents to go to appointments and offsite activities
Choice from one-bedroom, two-bedroom, and three-bedroom apartments
Individual control for heating and air conditioning in each apartment
Weekly laundry and linen services
CSmoke detectors in each apartment and a sprinkler system in place to help in the event of a fire
24-hour security in place to help protect residents
Parking for residents who still own cars
Amenities are also offered at La Costa Glen. There is a fitness room at the assisted living facility in San Diego California for residents who still enjoy exercising. Four dining rooms are available for residents who do not wish to eat in their apartments. The facility has both indoor and outdoor pools for residents to swim in. The card rooms at the facility allow residents to play card games and take part in some other recreational activities. For residents who enjoy watching television, cable TV is installed in every apartment. Apartments are available for guests who wish to stay overnight while visiting residents. In addition, there are also guest meals available when residents have family and/or friends visiting. On occasion there are live lectures held at the facility, as well as live musical events that residents can attend.