Merrill Gardens at Bankers Hill
2567 Second Ave., San Diego, CA 92103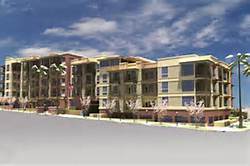 If you're looking for assisted living in San Diego County, you may want to consider Merrill Gardens at Bankers Hill. The facility places an importance on community, which may make it appealing to those who enjoy socializing. A number of services and amenities are offered at the facility, yet independence is also encouraged. As a result, residents can have as much independence as they are capable of while staying there, yet can also have easy access to any help they may need.
Residents at Merrill Gardens at Bankers Hill can have access to various services. Some of them include:
Staff that is available 24/7
Staff that is trained to help residents with managing their medications
Three meals provided on a daily basis
Regular housekeeping services
Weekly linen services
Transportation to take residents to appointments and offsite activities
Parking provided for those residents who still own cars
An emergency call system installed in each apartment that allows residents to call on the staff for help at any time
Help provided to residents by the staff with daily needs, such as getting dressed, keeping clean, and grooming
The option to choose one-room or two-room apartments
Amenities are also offered at Merrill Gardens at Bankers Hill. There is a fitness center at the facility for residents who still enjoy exercising. Residents who enjoy reading can pay a visit to the facility's library. The facility houses a beauty and barber shop where residents can go to have their hair done along with other types of grooming. If residents have family and/or friends visit, there is a private dining room where they can have private meals together. A regular dining room is also available for residents who do not wish to eat in their apartments. For residents who enjoy watching television, cable TV is installed in every apartment. If spirituality is important to residents, there are religious activities that they can take part in. Residents who want to bring pets with them are allowed to bring in small dogs and cats. However, they have to have any potential pet approved by the facility's management before they are allowed to bring them in.