Belmont Village of Sabre Springs
13075 Evening Creek Drive South, San Diego, CA 92128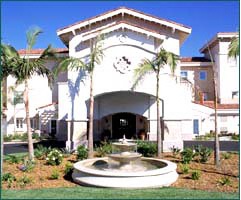 One of the nicest aassisted living facilities in San Diego offering special assistance for residents dealing with Alzheimer's and other memory-related issues is Belmont Village of Sabre Springs. The facility has a special section set up specifically to cater to residents with memory issues known as "The Neighborhood." At the same time, the facility is also set up to accommodate residents who are not dealing with memory issues but are unable to live on their own anymore. Residents are still allowed as much independence as they are capable of, but help is always there should they need it.
As far as services go, there are a number offered at Belmont Village of Sabre Springs. Some that are offered to residents include:
Staff that is available 24 hours a day, seven days a week
Licensed nurses on the staff
An emergency call system in place that is always available for residents to use
Three meals provided daily, including special meals for residents who require specific diets
Staff that is trained to help residents manage their medications
Transportation that can take residents to appointments or activities
Regular housekeeping
Control for heating and air conditioning in each apartment
Help as needed for residents with daily activities such as getting dressed, keeping clean, and grooming
Private and shared apartments to choose from
Respite care for residents only at the facility for the short-term
Wheelchair accessibility for the showers at the facility
Parking for residents who still have their own cars
Amenities are also offered at Belmont Village of Sabre Springs. There is a swimming pool at the facility, as well as a fitness center. In addition, there are also exercise classes offered. The facility's game room has a number of recreational activities for residents. At the facility's beauty and barber shop, residents can get their hair done or get a manicure. A putting green is available for residents who enjoy golfing. Residents who enjoy reading can spend some time at the facility's library. Occasionally the facility brings in live entertainment. For residents who enjoy watching television, cable TV is installed in each apartment.