Garden Park Villas Escondido
1342 N. Escondido Blvd., Escondido, CA 92026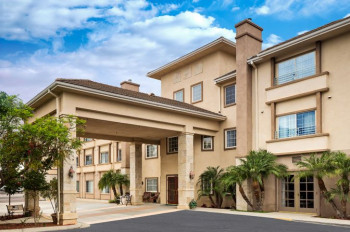 Garden Park Villas Escondido is an assisted living facility near San Diego in Escondido, CA. Among the many services provided there is memory care, meaning residents can receive care specifically designed for those suffering from Dementia (including Alzheimer's) and other types of memory issues. In addition, there are many services that will be of benefit to all residents who make their home at the facility.
Among the services residents can expect to be provided to them while residing at Garden Park Villas Escondido are:
24-hour available staff
Help with cleaning
Help with dressing
Housekeeping on a weekly basis
Laundry services
Linen services on a weekly basis
Three meals per day
Activities targeted specifically at residents with memory issues
Smoke detectors
Sprinklers
An emergency call system
Regularly scheduled transportation
Heat and air conditioning control in each apartment
Cable television
Walk-in showers with safety features
While services are certainly a major part of what Garden Park Villas Escondido has to offer its residents, they are not the only thing. Amenities are also offered, providing a wide range of fun activities and ways for residents to simply relax. For example, the facility's TV and media room offers residents a chance to watch TV and movies together rather than just having to watch them by themselves in their apartments. Residents can also watch movies in the two movie theaters found at the facility. A living room and coffee lounges provide residents with opportunities to socialize with each other. There is a spa at the facility that residents can spend some time in to relax. The facility's game room offers plenty of opportunities for residents to have fun. Three community dining rooms are housed at the facility, giving residents the chance to have meals together. If residents want to celebrate a special occasion or visit with family/friends in private, each of the dining rooms has a private dining room available. There is a beauty/barber shop at the facility that offers numerous grooming services to residents. An arts and crafts room provides residents with the chance to engage in creative activities.